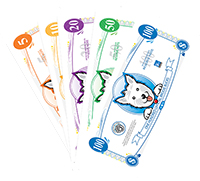 At NewHaven Software, we've worked hard over the years to take great care of our customers and provide them with innovative software solutions, excellent customer service and over-the-top support.
We believe our success is measured by how satisfied our customers are – and we feel that one of the best metrics we can use is how long a company using CMS sticks around. Our customers are loyal, renewing their agreements, enhancing CMS and depending on our support and professional services year after year.  We're humbled by that loyalty, and wanted to honor it with a little loyalty of our own.
That's where BrodieBucks come in.  In 2016, we introduced the BrodieBucks rewards program – a way for us to say thanks to our valued customers. Using BrodieBucks to reduce or eliminate the costs associated with upgrades, enhancements and professional services is a win-win! It helps our customers become more efficient and more profitable, which contributes to continued profitable growth for their company and ours!
So to our loyal, long-term customers, thank you and congratulations! Your BrodieBucks will continue to be credited to your account each time you renew your support agreement, and can be used at any time (see FAQ, below).
To those of you who might be thinking about partnering with NewHaven Software to upgrade your business, we'd love to talk to you about all we have to offer – including BrodieBucks!
For more details on BrodieBucks, see the FAQ below.