NewHaven Software Introduces BrodieBucks Rewards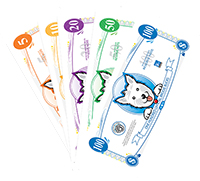 At NewHaven Software, we've worked hard over the years to take great care of our customers and provide them with innovative software solutions, excellent customer service and over-the-top support.
We believe our success is measured by how satisfied our customers are – and we feel that one of the best metrics we can use is how long a company using CMS sticks around. Our customers are loyal, renewing their agreements, enhancing CMS and depending on our support and professional services year after year.  We're humbled by that loyalty, and wanted to honor it with a little loyalty of our own.
That's where BrodieBucks come in.  In 2016, we introduced the BrodieBucks rewards program – a way for us to say thanks to our valued customers. Using BrodieBucks to reduce or eliminate the costs associated with upgrades, enhancements and professional services is a win-win! It helps our customers become more efficient and more profitable, which contributes to continued profitable growth for their company and ours!
So to our loyal, long-term customers, thank you and congratulations! Your BrodieBucks will continue to be credited to your account each time you renew your support agreement, and can be used at any time (see FAQ, below).
To those of you who might be thinking about partnering with NewHaven Software to upgrade your business, we'd love to talk to you about all we have to offer – including BrodieBucks!
For more details on BrodieBucks, see the FAQ below.
What exactly are BrodieBucks, anyway?

A reward currency that NewHaven Software issues to its customers as a way of showing our appreciation and saying "Thanks!" for their continued loyalty and use of CMS.

How do I earn BrodieBucks?

Annual Support customers earn 5% of their total Annual Support amount. For example, a company that spends $3500 for annual support will receive $175 in BrodieBucks. New customers will earn BrodieBucks beginning in their first full year of paid support. BrodieBucks may be spent immediately or at any time prior to expiration.

My company typically renews for more than one year at a time. How many BrodieBucks will I earn, and when will they be available to spend?

Currently, companies enrolling in multi-year plans earn 5% of the total support renewal amount – on top of any multi-year incentives or discounts you might receive. These BrodieBucks can be spent immediately or at any time during the support agreement (up to a maximum of three support years).

I pay for my support subscription monthly/quarterly. When are BrodieBucks credited to my account?

BrodieBucks are posted to your account upon renewal of your support subscription, and can be used at any time after we've received your first payment for the support renewal period.

What can I spend BrodieBucks on?

BrodieBucks can be used just like cash towards the purchase of CMS Upgrades, Workstation Licenses, Modules, website Plug-Ins and other enhancements.  They can also be used to pay for Professional Services, including custom development, on-site training, custom report writing, etc. BrodieBucks 

cannot

be used to purchase 3rd-party products and services, CMS Temporary Workstation Licenses, CMS support subscriptions or taxes (if applicable).

Do BrodieBucks ever expire?

Yes. They're valid for three "support years" from date of issue. You can accumulate BrodieBucks in your account for up to three years – so you can save up for something you want to add to CMS or a project you want to tackle.  After three years from date of issue, any balance remaining will expire. (For example, any BrodieBucks earned with the 2018 support year renewal not used by the end of the 2020 support year will expire.)

Where did the name "BrodieBucks" come from?

The name of our parent company (BrodieWare Limited) was named after Tom & Sharon's amazing Westie, Brodie.  In the early years, Brodie was our constant companion at the NHS offices and an inspiration for many marketing campaigns.  We originally created BrodieBucks many years ago, and they were popular in several promotions – so we brought them back as a reward to our loyal and dedicated customers.  Brodie left us for the Rainbow Bridge long ago, but his likeness can be found on every denomination of BrodieBucks.